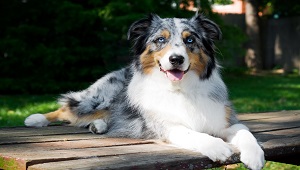 Here is a chart of daily calorie intakes for different breeds of dogs,
| Breed | Weight | Dry food quantity per day |
| --- | --- | --- |
| Chihuahua, Poodle , mini dogs | Less than 10 lbs | ¼ cup |
| Beagle, Cocker Spaniel, (medium dog breeds ) | 25 to 50 pounds | 2 cups |
| Golden Retriever, Boxer | 50 to 75 pounds | 3 cups |
| Great Dane and other large dogs | Over 75 pounds | 4 cups |
Keep weighing your dogs and follow the above food chart according to his weight. Remember more foods do not mean more love. Your dog does not really need extra food. Overweight dogs do not live long. Like humans extra weight can kill a dog. So be careful when you are feeding your dog. If your dog is eating home cooked meals then please follow the cup sizes mentioned on the chart for specific dogs.
Important tips: Some of us adopt rescue dogs who are malnourished. These dogs may need more foods than mentioned on above chart. However, you must talk to your vet about your rescue dog's calorie requirement per day.
P.S. Do not feed your dog more than three times a day.