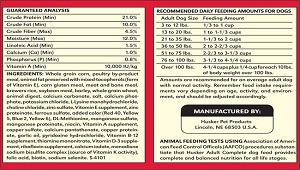 Always pick products that contain real ingredients like meats, brown rice, and no preservative. Organic foods cost more than regular food. But they are good for your dog.
Castor & Pollux Organix Dry Dog Food s one of the rare dry foods that contain no preservative and all natural ingredients. I personally used this food many times. Here is what Amazon user Teri said about this product,
"My puppy has been eating this food and I love how I can read all the ingredients on the bag. I worked in a pet store for a little while, I know what some of "the junk" is... View More >> "
Teri , an Amazon buyer
As I said you should also always feed your dog foods that uses very little or no preservative at all. Be a responsible dog owner, read the labels, understand the meanings of ingredients. This habit will benefit both you and your dog.