Rice: You should buy long grain organic brown rice for your dog. Soak the rice in clean water before cooking. Rice needs to be well-cooked, so your dog can digest it well.
Meat: You can use chicken, salmon, or beef for your dog. But please make the meat boneless first. Bones are bad for your dog's teeth. Cook the meat in clean water, add very little salt to taste. I know salt is not good for dogs. But a little salt will make the meat taste better. Dogs also need sodium in small doses. Salt helps in dog's growth.
Vegetables: Carrots, broccoli, cauliflower are great for dogs. Cut these vegetables into small pieces, wash them and then boil these vegetables with meat. Dogs will eat anything that has meat flavor in it.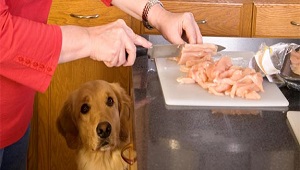 That is it; serve your dog rice, meat-vegetable mix along with pre-prepared dog food every day. Your dog will be healthy and happy.