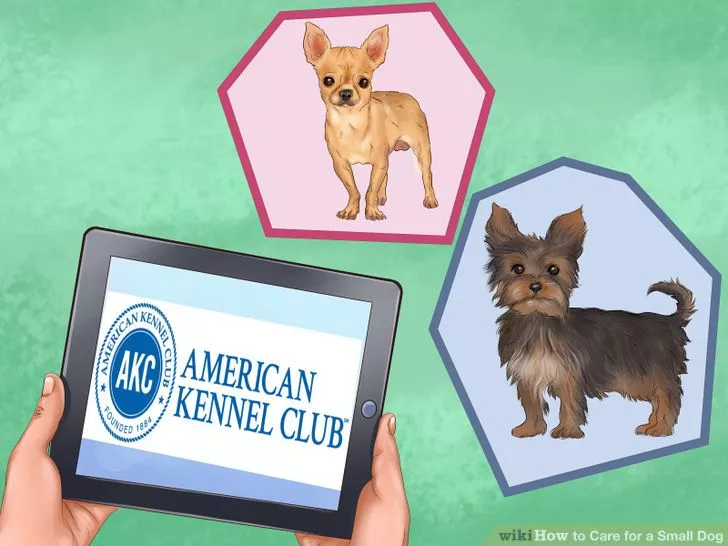 Research the unique characteristics of your pet's breed.We use the term 'small dog' to refer to dogs that are typically less than eighteen inches tall and weigh less than twenty pounds. This includes toy, miniature, and small breeds like Yorkshire Terriers, Chihuahuas, Miniature Poodles, and Miniature Pinschers. Each breed has their own temperament, appearance, characteristics, and needs.
The American Kennel Club is a great first place to begin your research on dog breeds. Each breed recognized by the AKC (which covers the overwhelming majority of dogs) has a guide and information about grooming, temperament, care, and medical needs.
Dogs have their own personalities that can vary greatly from dog to dog. Your dog may or may not have the same temperament that is described as typical for a certain breed.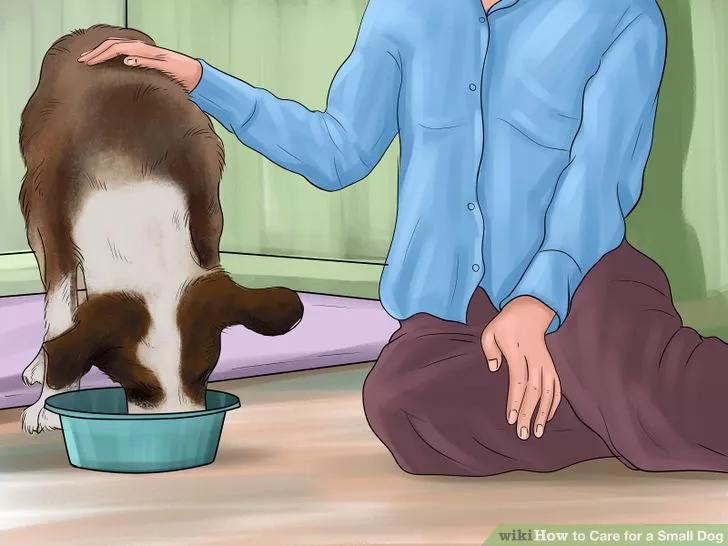 Feed on a regular schedule. It is important to feed your dog on a regular schedule to maintain consistency and to establish a routine. The amount of food your dog will need to consume each day will depend on their age, size, and activity level. Incorporate training into your feeding schedule by having your dog practice certain obedience commands before you let them eat.
There are a number of different dog brands that cater exclusively to small dogs. While you do not necessarily need to feed them a special kind of food, some owners prefer to purchase these brands.
Talk to your veterinarian to determine how much food your small dog will need. A small dog that engages in a lot of physical activity may need more food.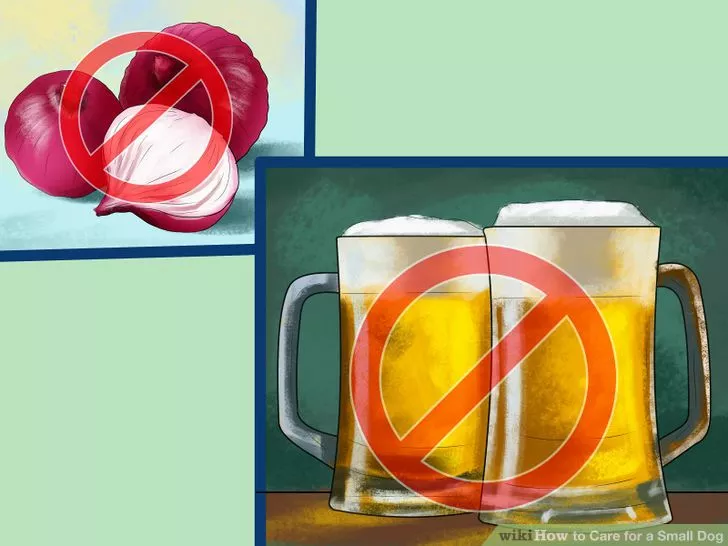 Avoid feeding small dogs human food. It can be very tempting to share bits of your meal or to give human food to your pet as a treat. However, there are a number of foods that are very harmful to dogs. Feeding your dog human food also encourages negative behaviors, such as begging or bothering people when they are eating.
Alcohol, chocolate, caffeinated foods and drinks, dairy, garlic, grapes, onions, salt are all harmful to dogs.
Even small amounts of some foods, like chocolate, have significant negative health consequences for small dog breeds.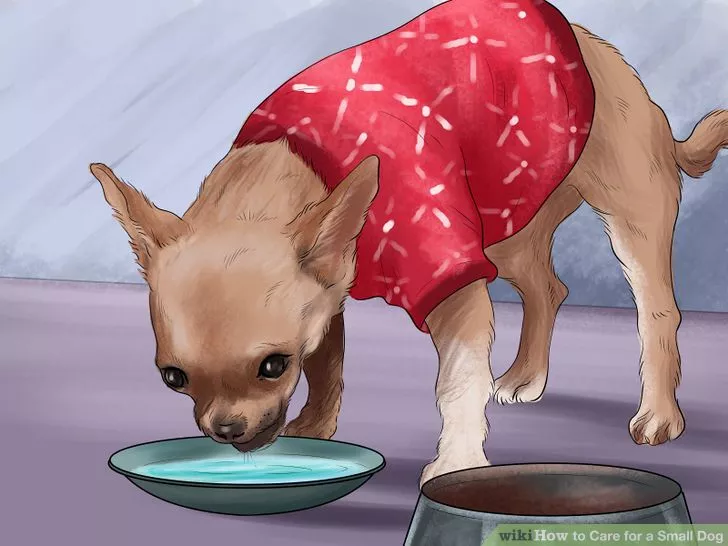 Always provide access to clean water. Along with food, dogs need water to stay healthy. Always leave a bowl of clean and fresh water for your dog to enjoy.
Some toy or miniature breeds may be unable to reach into standard bowls to drink water, so you may want to consider buying a shallower bowl for them.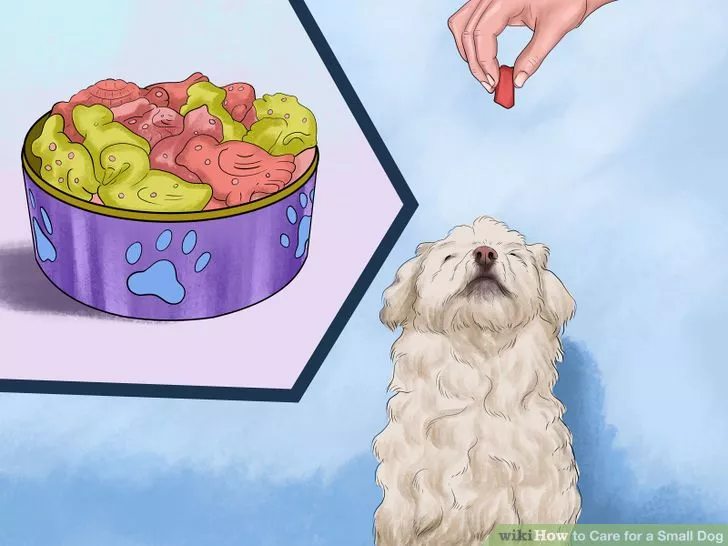 Limit treats to healthy amounts. Treats are a great way to praise your dog or to reward them for good behaviors. However, they are a source of additional calories for your dog and even a small weight gain can be significant for small dogs.
Small dogs are at risk of becoming overweight, which can put a lot of stress on their joints and bones and impact their overall health. Dogs that maintain a healthy weight can increase their life expectancies by up to two years.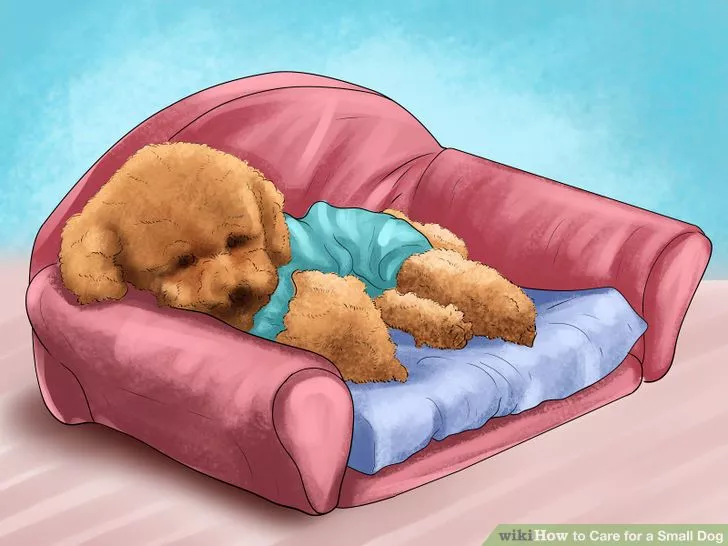 Provide a comfortable place to sleep. Whether you decide to crate train your dog or have them sleep in their own dog bed, your dog wants to feel safe when they sleep. Small dogs sleep an average of twelve to fourteen hours a day as adults, and puppies will sleep even more.
Many owners choose to let small dogs on their furniture and in their beds. This is a personal choice, though most dog trainers agree that crates and dog beds are the best place for dogs to sleep.