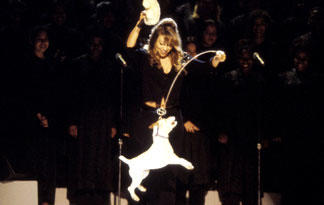 Although the jury's still out on whether Mariah Carey's small dog has a diva-like attitude, we wouldn't blame him if all the posh treatment went to his head.
Jack, as the Russell terrier is aptly named, appears in Mimi's music videos and is her longtime companion -- at home and abroad. According to DailyMail.co.uk, Jack enjoys either being flown on a private jet or driven in a chauffeured Mercedes, but only because he's not allowed to fly first class with his best gal.
If he takes a cue from his owner, Jack is sure to lend his celebrity muscle to charitable concerns. In the past, Carey has donated her signature (and Jack's paw print) to a charity auction to benefit the Mississippi Animal Rescue League. And when an admirer gave her two fur coats, Mimi sent the gifts directly to People for the Ethical Treatment of Animals (PETA) -- so they could be donated to the homeless.