Dog car seat
AmazonBasics Waterproof Car Bench Seat Cover for Pets
I love this car seat, it is not cheap, but my dog looks very comfortable when he sits on it. I also love it because it is waterproof (accidents can happen anytime with a dog).
Trust me you will need a backseat barrier when you are driving with a dog. You just never drive when your dog wants to come out in the front and want to give you cuddle. It may sound cute, but when you are driving it can cause accidents. So purchase this please.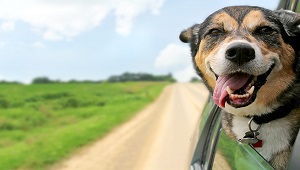 Kurgo Backseat Reversible Dog Bridge Car Seat Extender
I got this for family picnic times. Your dog may feel tired and want to take a nap while you are enjoying outdoors. This car seat can turn into a nice size car bed. My dog love it and so do I. I also serve food on it; my dog cannot make a mess with his foods as the seat is very wide. Foot items stay on the seat.
Apart from these you also need to have dry foods and a water bottle when you are traveling with your dog.