Here is an idea, why not make some clothes and toys at home? You do not need to have any special skills to make toys and clothes for your dogs. Materials you need to make dog toys and t-shirts are easily available.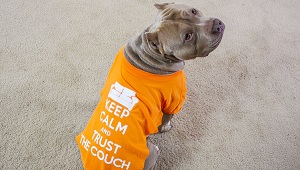 Do you know the top reason behind making things for dog at home? It is super fun and creative.
Steps to make dog T-shirt at home,
Materials you need: A one color old T-shirt, a pair of scissors and some fabric colors.
Steps
Take your dog's measurements, it is easy, give him one of his favorite treats to eat and then take his measurements.
First, fold the T-shirt in half. Now start cutting the T-shirt. Make the front of t-shirt look like a crop top, do not cut the back. If your t-shirt has long round neck then you do not need to cut the neck, but if it has small neck hole then cut it deeper, as your dog needs to put his head in the neck hole, to wear the shirt.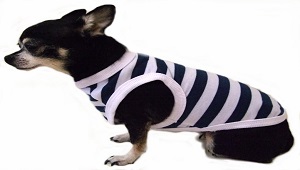 If your shirt has sleeves, then cut the sleeve. Your T-shirt is ready now. Give the dog to wear the shirt.
If you did not understand what I said please take a look at the following video and you will understand all the steps very clearly. In this video the user is showing how to make a sweater for dog, process here shown is same for a dog shirt.