Dogs communicate with their tails. If a dog is wagging its tail slowly it means he is greeting someone new. Your dog will always wag its tail frequently when he sees you after a long time.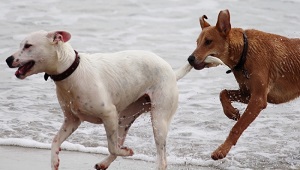 If your dog's tail is straight that means he is curiously looking at something new.
If your dog is looking at a single point and wagging its tail slowly from side to side, take a look at the place where he is looking. You may spot an insect or a snake, which is scaring your dog.
Dog wagging its tail in high speed means he is about to take a step.
If dog's tail is pointed on floor's direction that means something scared the dog.