Your puppy will only eat liquids until he is four weeks old. After that you need to start introducing solid foods your puppy. Your vet will help with Puppy's diet.
You can add mix dry dog food and water and feed it to your puppy. Feed him six small meals during the day.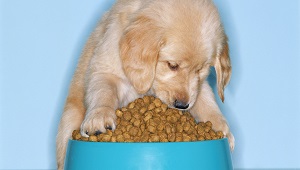 For snacks, give your puppy one fourth of eggs, one boiled piece of carrot, or one small slice apple.